Press
Selfless Servants - SF New Mexican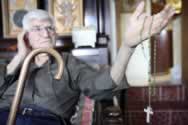 by Ramon Montes, 5/31/2009
The living room in Ramon Montes' house near the Railyard is filled with original pieces by Montes himself. Wooden carvings of La Virgen de Guadalupe and the stations of the cross hang proudly. A few kachinas can be spotted if one looks carefully. Framed Christmas trees made from his late wife's jewelry are displayed on stands on the dining room table.
It's his work as a santero and a mentor to young artists, his heritage and his amazing life story that earned him a spot as a Living Treasure. According to the Living Treasures Committee, Montes, who was born and raised in Santa Fe, is a "true Santa Fean."
Montes, 90, has been an artist since he was a little boy, he said. He still works a few hours every day, creating new things.
His late father was a wood carver. One day, he took the boy aside, gave him his first knife and taught Montes the trade.
In addition to carving, Montes started working when he was just a little boy.
"When I was about 6 or 7 years old, my brother and I used to see The New Mexican, and once a week we used to sell the Nuevo Mexicano," Montes said. He earned enough money -- $7 -- to purchase part of his first communion suit.
"I got all my nickels and dimes and quarters and I had enough money to buy my jacket and pants," Montes remembers with a laugh. "My father and mother bought the rest.
"I always worked," Montes added. "I worked all my life."
He eventually joined the Civil Conservation Corps to help provide for his family when his father was sick with cancer. Every time he would receive his $30 check, he would send $25 home and keep $5 for himself. After two years, Montes had to leave as per the organization's requirement, and wait six months before returning. Within that six months, though, his life changed drastically.
His parents died, leaving Montes in charge of his six younger siblings. Both his work ethic and his carving skills were utilized during this time. He worked to provide for his siblings and carved toys for them for every holiday and celebration.
He created so many beautiful toys and cribs, in excess of what he needed for his siblings, that he showed his work to a couple who owned a furniture store downtown. The owners asked him to bring over everything he had so they could sell it. Shortly after Montes took over all his work, there was an explosion at the store, killing the owners and destroying his work.
"That was the end of my woodworking," Montes said. "Everything I had was gone. The poor man was so good to me and they both died."
Montes entered the Army during World War II. Before he left New York, a priest gave him a rosary, with which he prayed fervently for his safe return. He made a promise that if he returned safely, he would make a pilgrimage to Chimayo -- a promise he kept when he returned home. Montes still prays with the rosary, twice a day.
Also, when he returned home, Montes' grandfather convinced him he should began to carve again -- but this time to carve something more meaningful. Montes drew on his faith and began carving santos. His house is filled with art because he doesn't sell it.
He said he's witnessed the drastic change of Santa Fe -- which had only about
10,000 residents when he was a boy. In his neighborhood, which now includes the Railyard, only Spanish was spoken.
He said he doesn't know why he was chosen to be Living Treasure, but "It's a big honor."
Barbara Hooten
Barbara Hooten, 83, doesn't want to take credit for any of the things that earned her the honor of being a Living Treasure -- including being part of a team that founded Santa Fe Preparatory School and another group that helped establish the St. John's College campus in Santa Fe.
"That was entirely my husband," Hooten said, referring to the late Bill Hooten. "He was always interested in education, particularly education for before people got to college. There were many helpful places for people in college, he thought we should get them before they went to college."
She said she specialized in helping her husband entertain the people who were making all the decisions.
"I used to arrange all of that," Hooten said with a smile.
But that didn't mean Hooten wasn't a champion for education.
"I think we're not much of a country if we're a bunch of dunderheads. When I first came here, there were a lot of people who should have gone to college -- even to high school -- who were not doing that," Hooten said.
"They would go for a while and then fall out. I try to get involved with people who were helping the schools to keep their students and have more people to go to college and to high school."
The Hootens moved to Santa Fe in the 1940s.
"It's a wonderful, wonderful place to live," Hooten said. "I have made many good friends here. I love the territory and I love the atmosphere. It's just a terrific place to live."
They had stayed at Rancho del Monte, a dude ranch near Tesuque, and became good friends with the manager. When she was looking for somebody to run the ranch, which later came to be known as Rancho Encantado, they jumped at the opportunity.
Many famous people stayed at the ranch, although Hooten said she couldn't recall all of them. "We had some very well-known people as well as nobody that we had ever heard of," Hooten said.
She was a friend of author Patrick Dennis, who insisted that the day-to-day activities at the ranch would make for good reading.
Dennis said that Hooten's daily activities could fill a book. He asked her if he could come out and write a book. "I said, 'I don't want to do that,' and he said, 'I do,' " Hooten said.
So Dennis came out to the ranch and wrote Guestward Ho, a "funny book," Hooten said.
Even though Hooten retired many years ago, she wanted to work for the Santa Fe Community Housing Trust to help people buy an affordable first home.
"I was just very interested in it," Hooten said.
Hooten said she's just puzzled as to why she was selected a Living Treasure.
"I can't believe it," Hooten said. "I don't know why, because I'm not a treasurable person, but it's very, very nice."
Saul Cohen
Recently when Saul Cohen, 81, was reading The New Mexican, he saw a quote that inspired him in a sports column.
The quote from Thomas Aquinas went "something like 'There's a difference between being honored and deserving that honor,' " Cohen said. "Sometimes people are honored who don't deserve to be honored, so it's better to deserve it than to just be honored. I hope I fit into both categories."
Cohen said he hopes he deserves the honor of Living Treasure, which he was recently given by the Living Treasures committee for his long-standing commitment to serving the Santa Fe community.
Cohen moved part-time to Santa Fe with his wife, Anne-Lise Cohen, after the couple visited in 1970.
"We fell in love with it," Cohen said. When a little house with an outhouse became available, Cohen jumped at the chance to buy it. The Cohen family would spend a few months out of the year in Santa Fe, but that didn't quench their thirst for the city.
Cohen, a Los Angeles native, gave up his life there to start a new one in Santa Fe. The attorney, who is not retired but still "of counsel," started to volunteer with various organizations.
A good chunk of Cohen's rÈsumÈ includes a large paragraph dedicated to describing these positions. He served as the president of the Georgia O'Keeffe Museum; president of the board of trustees of the International Folk Art Foundation; former president of the board of regents of the New Mexico School for the Deaf; and former chairman of the city's Historic Design Review Board, among many others.
"We love Santa Fe, and I think that living here is a privilege," Cohen said as he sat in his personal library in which every inch of wall space is covered with books. "It's a way of paying the community for the privilege of being able to live here."
In addition to serving the community, Cohen loves to read and write.
"It's been in the works for over 50 years," Cohen said of his book collection. "I've always loved books and I couldn't afford to buy them, but thanks to libraries I could read them. Gradually I started to acquire books that interest me. It's a harmless hobby."
Two years ago, two of his 10 grandchildren asked him how many books he had and when he didn't know, they began to count them.
"They ended up with something like 12,000," Cohen said. "I have a few more now."
Cohen has written more than 50 essays and articles that have shown up New Mexico Magazine, Law and Society Review and the Baker Street Journal among others.
"Writing is hard work, but it feels good when you're through," Cohen said.
Cohen also works on keeping himself fit. Every morning, he wakes up, does The New Mexican crossword puzzle and goes for a run.
"One of the good things about running is you don't have to go anywhere and you don't have to have special equipment -- just shoes," Cohen said. He had plans to run a the 5K Santa Fe Run Around on Saturday.
But he's still not quite sure he deserves to be called a "Living Treasure," he said.
"Well, everybody makes mistakes and I guess the committee is entitled to make a mistake, too," Cohen said with a laugh. "I'm glad to know I'm living -- I'm not sure about the treasure part."
Contact Ana Maria Trujillo at 986-3084 or This email address is being protected from spambots. You need JavaScript enabled to view it..